salam sobat ini dia topik yang saya suka tentang yokai si hantu jepang ada banyak jenisnya tapi saya akan share beberapa
Youkai or demon, spirit, or a monster There is a class of supernatural creatures in Japanese folklore ranging from the evil oni (ogre), mischievous kitsune (fox) or snow woman Yuki-onna. Some animals have parts and part human features (eg Kappa and Tengu). Youkai usually have some sort of spiritual or supernatural forces. Yōkai who has the ability to shape-shift called obake.
Well, this time we'll discuss a little about the creatures that exist in Myth and Legend in Japan. This legend must be some creature most young people in the know because emang uda, loads of comics, anime movies meant ato some stories about them and may appear as a supporting character in the story.
A.
Onii youkai
is a kind of evil creatures with great power that comes from hell to interfere with human life on earth. Oni described the story as a legend and Oni in Japanese folklore, which is a creepy-looking creatures with protruding canine teeth, horns and red skin. Oni described the equivalent of the devil and demons typical European. They have supernatural powers that could destroy mankind.
2.
Kitsune youkai
is the name for the animal fox in Japanese. In Japanese folklore, foxes are often featured in various stories as intelligent creatures with magical abilities which improves as the wise and the fox is growing older. In addition, the fox can change into human form. In legend, the fox is often described as a faithful guardian, friend, lover, or wife, although often there is the story of the fox deceive people. In Shinto belief, called Inari kitsune who served as messengers from Us (God). Some people give offerings for kitsune as it is considered to have supernatural powers.
3.
Kuchisake-onna youkai:
(She mouthed Width)]
is one of the famous legends of Japan. As its name suggests, this creature intangible woman with her ​​mouth wide, his lips reaches the ears. It is said that the woman is the victim of a failed dental surgery, so that his mouth and his teeth ripped look with sinister grin. Because of anger, she killed the doctor who operated on him, then run away, covering his mouth with a cloth. Then she turned into a ghost and haunt. On a quiet street, the woman often ask the children who passed her, whether she is beautiful or not. Some myths say that to say beautiful, then children's lives saved, whereas if the answer bad it will be killed.
4.
Bijuu youkai
are creatures from Japanese mythology legend. Most of them are big and amazing strength. They are scattered throughout the area of Japan. The power of chakra / stamina they are classified by their tail number.
The bijuu are just myths that exist in Japan. They say their spirits sealed in 9 temples in Japan. The bijuu are creatures also have a half-god or gods pets.(Raijuu used to be a god before the forces of darkness Yamata no Orochi make it a monster. Nekomata are also pet god of death)
Anime that there is a rich Bijuu: Naruto, then at Nube also
5.
Kappa youkai
is a creature of legend: a type of water nymph found in Japanese folklore.Most of the picture show kappa as child-sized humanoid, like monkeys or frogs than human beings. Some of the information stated on their faces like a monkey, while others show them with beaked face that looks more like a turtle or duck. small children is one of the gluttonous kappa's favorite food, although they will also eat the adults as well. They take these poor victims to come out sucking shirikodama (尻子玉) (or the intestines, blood, liver, or "life force," depending on the legend) through the anus. Even now, signs of danger about kappa appear by bodies of water in some towns and villages of Japan.
6.
Nekomata youkai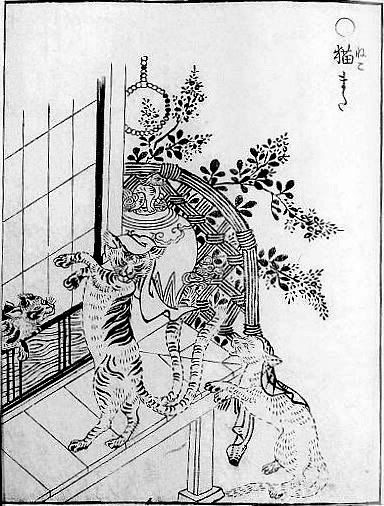 Nekomata is a creature from Japanese mythology, believed to be a metamorphosis of pet cats. He is originally from the Forest of Death in northern Hokkaido and supposedly first discovered in Satan Hokkaido Forest, he came from the Forest of Death (in contrast with the forest demon) in northern Hokkaido. The shape of a giant black cat monster.
7.
Tengu youkai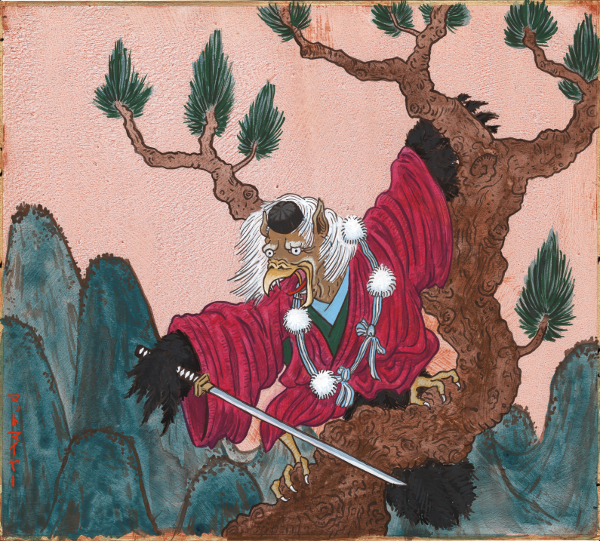 Tengu is a creature of Japanese legend. We are one of the gatekeepers of the mountain, or youkai are closely related to hawks or crows. Her clothes are similar to pastor yamabushi clothes are forging themselves in the woods and mountains. Tengu has a long nose, red face, a pair of wings, legs and hands and nails are very long. Tengu can fly freely in space, carrying a stick called kongōzue, a large sword (tachi), and fan-shaped leaves (hauchiwa). Her work prevents people who want to explore Buddhism. Other names are Gehō together (外法様master of magic).
8.
Tsuchinoko youkai
Animals are reported to exist in Japan but have never been proven (cryptid).Shaped like a snake but bottled or paunchy like a bowling pin with a small tail like a rat tail. These animals are reported to have "seen" an eyewitness at various places in Japan, except in Hokkaido and the Ryukyu Islands. Until now, Tsuchinoko had never been arrested person because witnesses were afraid, or first animal to escape. Some local governments in Japan offering a large sum of money prize for the person who caught Tsuchinoko. Prize money of 100 million yen had offered the city of Itoigawa, Niigata Prefecture.
Most likely, the only one to see it. Abdomen the snake had just swallowed a large prey such as the figure will grow Tsuchinoko eyewitnesses reported. In addition, similar Tsuchinoko lizard Tiliqua genus that went into Japan as pets since about the 1970s. The lizards have small feet and almost invisible, so it can be mistaken amidst lush as Tsuchinoko (sempet appear in Doraemon, too)
9.
Amikiri youkai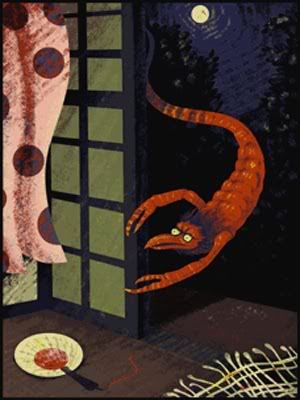 Most of these types of youkai live under water. Creepy-looking and sometimes attack humans. Amikiri can live on land and transformed himself into a human.Amikiri be friends man if man is to appreciate the natural surroundings.
10.
Kasabake youkai
Umbrella ghost who is described as one-eyed umbrella and his tongue hanging out. Cantilever is one foot (paying up) wearing wooden sandals. This ghost likes flying when rain fell, and reportedly likes bermaindengan child.
11.
Yuki Onna youkai
Youkai intangible beautiful woman who appears in the snowy mountains. Appeared before lelaki2 likes young and tempting to want to kiss the man. His kiss will make people become blocks of ice.